Be the first to get our daily update, connect with us
MEXT Ritsumeikan APU Japanese Government Scholarship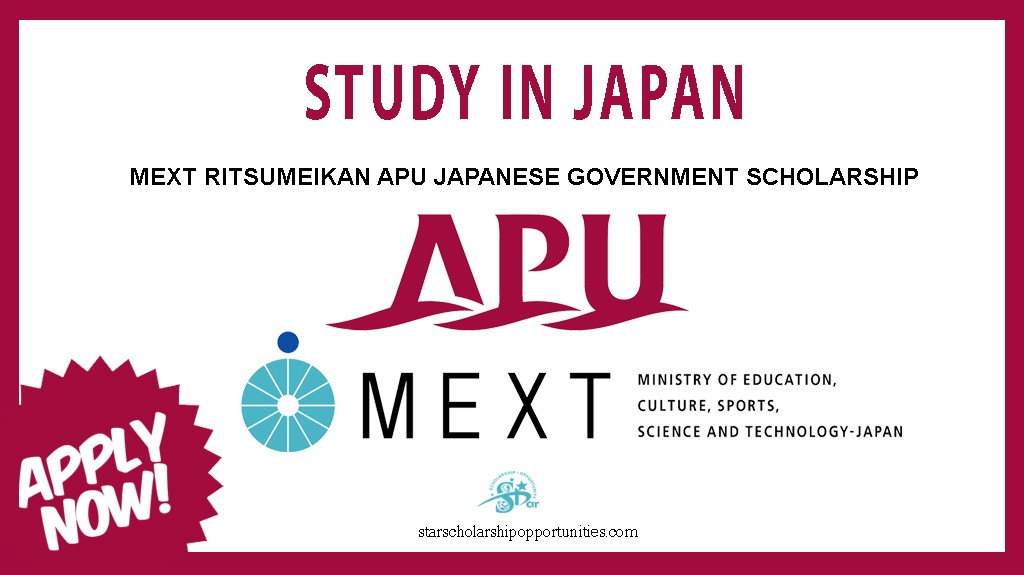 Applications are open for the Japanese Government Scholarship for every academic year. The Japanese government scholarship includes master's, and PhD programs for international students. It is a fully-funded opportunity for international students to study from the top international private institution of Japan, the scholarship will cover full tuition fee, provide stipend and travel expenses to lessen the student's burden. The scholarship is offered at the Asia Pacific University in Japan.
Brilliant and outstanding students will be a part of this program after going through the selection process. The aim is to enhance international competitiveness and promote the exchange of students. The scholarship is open to all programs offered by Asia Pacific University for all levels of fields. The scholarship can be accessed online. Avail this opportunity before the deadline and get a degree from the prestigious University of Japan. 
After enrollment, there are various scholarships available to outstanding international students. These scholarships are the courtesy of several individuals, domestic and international companies, municipal government, together with the Japanese Ministry of Education, Culture, Sports, Science and Technology (MEXT) to encourage self-motivated students with remarkable results in their activities. Information of relevant scholarships will be informed to you by the Student Office. For a full list of scholarships available after enrollment, please see the Student Office's webpage.
MEXT Ritsumeikan APU Japanese Government Scholarship Details
Country: Japan
Financial coverage: Fully Funded
Deadline: March 23, 2023
MEXT Ritsumeikan APU Japanese Government Scholarship Benefits
Japanese government scholarship will provide the following benefits:
The host institute will cover a 100% tuition fee.
In addition, 144,000 JPY will be given per month for the living expenses.
Economy class air travel from my home country to Japan at the beginning and end of the program.
Other details :
Applicants who are serving on active military duty or by the military at the time of application are not eligible for Japanese government scholarships.
Students must be able to arrive in Japan during the arrival period stipulated by APU.
Those who apply for this scholarship must not have received a scholarship in the past; unless they have more than 3 years of research experience after the previous MEXT scholarship award.
Recipients of this scholarship must have a student status of residence (visa status) in Japan.
Leiden University Scholarships 2023 Eligibility
Applicant must meet the following criteria for Japanese Government Scholarship:
Applicants must have studied at a university where the means of communication is English.
Applicants must intend to study in Japan from overseas.
Must not be a Japanese national or belong to a country that has diplomatic relations with Japan.
Must be born in the year 1985 or after.
Applicants must either meet the English language proficiency criteria or the Japanese language proficiency.
English proficiency test score must be equivalent to B2 or above on the common European framework of reference for languages (e.g., TOEFL IBT 72 or above, IELTS 5.5 or above).
Students can not apply for more than one scholarship.
Selected candidates can not receive any other scholarships.
Some of the scholarships available after entering APU
ANDO Momofuku Award
SATO Yo International Scholarship
APU Academic Merit Scholarship
APU Incentive Scholarship for Self-motivated Students
APU Resident Assistant Scholarship
Nojima Foundation Scholarship
Heiwa Nakajima Scholarship
Toyota Tsusho Scholarship
Otsuka Toshimi Scholarship
Mitsubishi UFJ Scholarship
Oita Prefecture Scholarship
Sojitsu Scholarship
Unicharm Scholarship
Kobayashi Scholarship
Tohkoh Jushi Scholarship
Kyushu Oil Labor Union Stork Scholarship
MAKITA Jinichi Scholarship
Mitsubishi Corporation International Scholarship
Oita Rotary Club Scholarship
Rotary Yoneyama Scholarship
Tatsunoko Foundation Scholarship
Mitsubishi Research Institute Asia Research Fellow Scholarship
JEES Shosu Scholarship
Honors Scholarship for Privately Financed International Students (JASSO)
The application must be submitted before the deadline. No additional documents are required for the scholarship.
APU reviews application documents to select the brilliant candidates to further recommend to MEXT.
Selected applicants will be notified. Candidates must further complete and submit the MEXT application documents to APU. The NEXT will decide the final candidates.
Found this post useful, Kindly Share it on
Be the first to get our daily update, connect with us